Digital video management & storage
If you want to add motion detection cameras to particular areas of your premises, or record and store footage digitally to improve the effectiveness of your business CCTV, our systems – which are all fitted by our expert CCTV installers – let you do this.

Mobile view
Access your video surveillance system from your mobile phone, tablet or PC to view live or recorded images and receive notifications of all your alarm events. Dual stream support gives you two different views from your IP camera; one in high definition for recording and one in a lower resolution for live display. This saves bandwidth and means your recorder can display more cameras.
Email notification
You can set your CCTV for business system to send event notifications – such as alarm activations or system faults that require attention – to specified email addresses. This means they never go unnoticed.
Our range of cameras
From standard fixed position CCTV cameras, to mini domes that give you a 360° view of your premises, we have the right solution for any business. We also have a range of analogue HD and IP cameras ideal for internal and external use.
A 360° degree view
Ideal for spaces where it's important to have eyes everywhere, our surveillance cameras can provide a 180° panoramic view when mounted on the wall, or a 360° bird's eye view when mounted on the ceiling. The lens captures an ultra-wide field of view looking in all directions in real-time, and uses in-built de-warping technology to provide a clear picture.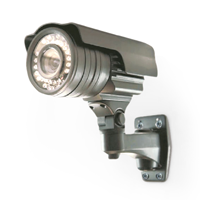 Robust and vandal-resistant
Durability is an essential feature of all our CCTV camera systems. A high-impact protective casing secures against the harshest of environments, withstanding external impacts that might occur if an intruder attempts to take the camera out of action.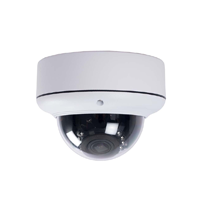 Compact and discreet
Don't let size fool you. Although some are small, our cameras offer crisp, high-definition video quality in all lights. There's also the added benefit of blending into the surrounding, making it hard for intruders to spot that they're being watched.
Exceptional low light performance
Unsurprisingly, many security breaches happen at night. Our HD CCTV cameras switch seamlessly between day and night mode, and when light levels drop, they automatically turn on the built-in IR illuminators and switch from colour to black and white to capture crystal clear images in very low light.
High definition picture quality
Image quality is crucial and our HD and MegaPixel CCTV camera systems let you capture the small detail – such as sleight of hand theft. If you already have analogue cameras, you can upgrade to HD CCTV without replacing your entire security system. Just switch the cameras and recorder, and you're more secure than ever.
Get a free quote.
An ADT Security Consultant will be happy to come to your premise and recommend the perfect security solution based on your business and circumstances. To arrange a visit just click or call 0800 804 6226