ADT Smart Home
Video Doorbell
The ADT Smart Home Video Doorbell is your first line of defence. It helps you stay protected by making it easy to see, hear and record who's at your door.
Features
In-built motion sensors detect when someone approaches your home
Immediate notifications when someone approaches the door or rings the bell
Live video from the doorbell camera is accessible via the ADT Smart Services app
Two-way audio to let your visitor know you can see and hear them
Night vision to see more clearly in low light
Automatic recording when someone is detected, with space for 1000 clips
Video saved to the cloud, with back-up GPRS connection in case your Wi-Fi fails
Doorbell hardwired by an ADT professional so there's no batteries to change
Product Information
There's no better way of seeing who's at the door than with an ADT Smart Home Video Doorbell. Whether it's acting as a first defence for your property, or just letting you know that your home delivery is here.
With our app you can access the in-built camera from anywhere in the world. And with bank-level encryption you can feel even more reassured that a video will record – and remain private – every time someone is detected at your door.
Product specs
Video Quality
720p HD / Night vision / Motion detection
Audio
Two-way, with noise reduction
Power
Hardwired (8-24 VAC)
Connectivity
802.11 b/g/n Wi-Fi connection @ 2.4GHz
Operating conditions
-4°F to 122°F (-20°C to 50°C) Weather resistant
Compatibility
Apple iOS 10.X or higher; Android 4.4 or higher
Dimensions
H: 4.8" (12.2 cm) W: 1.44" (3.65 cm) D: 1.13" (2.86 cm)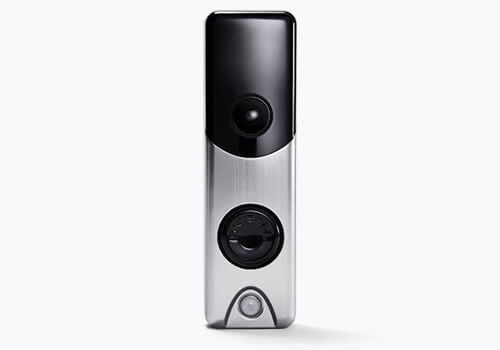 Discover the device
Click the buttons below to find out more
x
MicrophoneDigital microphone and speaker for two way audio.
x
Full colour camera720p with 180 degree view and night vision IR up to 8 feet.
x
ButtonMain button with LED indicator light
x
Motion detectionPIR detection up to 2.5m with built-in sensitivity adjustments.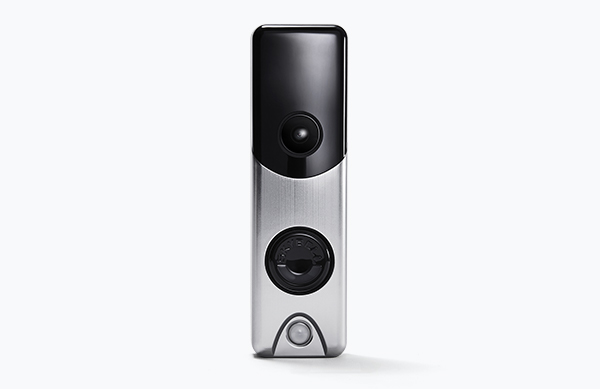 FAQs
Is this a smart doorbell?
Yes. As an add-on to the ADT Smart Home package, the video doorbell uses wireless connectivity. It means it's always on – either through your home Wi-Fi or a back-up GPRS connection – and able to connect with your other ADT devices.
What other ADT devices are compatible?
As well as working with one of our ADT Smart Home Intruder Alarms, you can also connect up to eight HD CCTV cameras, plus a number of smoke alarms and carbon monoxide detectors.
What type of doorbell camera is used?
This is a 720p HD video camera. It uses infrared night-vision technology so you can see visitors in the dark.
Does the ADT doorbell record?
Yes – automatically. Either when someone steps foot on your property, or when they press your doorbell, depending on your preferences. Each video is sent to our cloud server and stored there, with space for 1000 recordings.
How do I change the battery in an ADT doorbell?
You don't. Your ADT doorbell is professionally installed and hardwired by one of our engineers. If there ever is a problem, just let us know. We can usually fix 80% of problems remotely.
Learn more