ADT Pet Friendly
Alarm Package
From £38.99 per month
Installation from £249
Then from £38.99 per month inclusive
Home security and happy pets go hand in hand with our all-inclusive dedicated pet friendly alarm packages.
Package Features
This package comes with six key components, designed to work together so that your pets can roam free without compromising home security.
ADT Bell box with flashing LED light
Touch screen alarm panel with integrated keypad and deterrent siren
ADT Smart Services integration allows you to control alarm through phone, tablet or PC, via our app
1x Wi-Fi camera
1x Wireless door contact
2x Wireless shock sensors
Shock sensors are our pet friendly alternative to motion sensors. Placed on windows and doors, they detect forced entry before a burglar enters the property, giving pets the freedom to move around inside
Professionally installed
Monitored 24/7/365 by our dedicated alarm centre
Package Information
Every one of our packages comes with peace of mind built in. This modern wireless intruder alarm package offers outstanding wireless functionality combined with optimum reliability and pet friendly performance.
Panel Dimensions
H: 5" (12.7cm) W: 7.75" (19.7cm) D: 0.75" (1.9cm)
Integrated Siren
Integrated siren produces >84 decibels within the home
Bank Level Encryption
Highly secured AES-128 encrypted wireless communication surpasses the strictest industry standards
Energy Saving
Adaptive transmission power saves energy and significantly extends battery life
Wireless Technology
Shock sensors use revolutionary PowerG wireless technology to deliver outstanding reliability, robustness and efficiency
False Alarm Detection
High immunity to background vibrations which can cause false alarms
Package Pricing
All of our packages are tailored to suit your specific security needs – so for accurate pricing, don't hesitate to get one of our free, no obligation quotes today. Our services are charged via two payments – an initial installation fee, and a monthly charge.
The cost of installation by our expert engineers starts at £249, because quality security is never DIY. Depending on your monitoring packaging, we'll keep an eye on your system 24/7/365 and provide all-inclusive maintenance for a monthly payment – starting at just £38.99.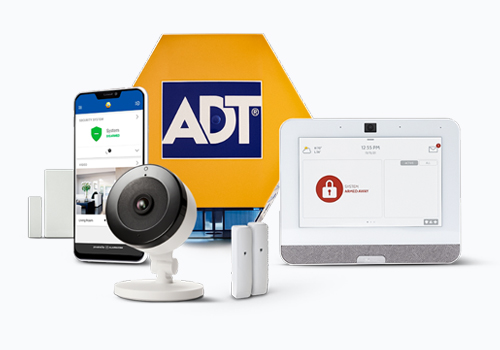 Discover the package
Click the buttons below to find out more
x
ADT Bell BoxThe name that tells everyone you're serious about security
x
IQ2 Alarm PanelSmart alarm panel with touchscreen keypad, glass break detection and 5MP camera
x
Wireless Door ContactThese can be fitted discretely to doors and windows, which alerts the alarm panel when opened
x
ADT Smart Services appSet and unset your alarm from your smartphone, and enjoy a whole host of other functions
x
Shock SensorsPlaced on doors and windows to detect forced entry before anyone gains access
x
Wi-Fi cameraMotion sensitive, full colour HD video gives clear footage even at night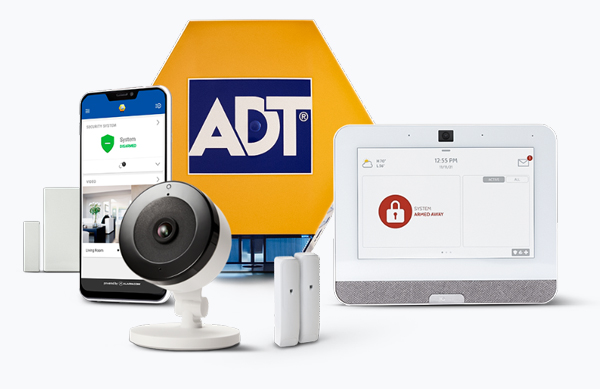 Pet Friendly Alarm FAQs
Can I purchase a pet friendly alarm without the monthly monitoring costs?
We believe that a monitored intruder alarm is the heart of a good home security system. That's why we only offer monitored systems, because when your alarm is monitored it's never ignored.
Is the panel portable or do I need to have it fixed to the wall?
Our sleek IQ alarm panel is designed to match the aesthetics of your home with no need for complicated cabling. A single, easily hidden wire runs to a domestic plug socket, meaning you can choose to mount it to a wall or have it freestanding on a table or sideboard. Because your panel is used to set and unset your alarm, we recommend you place it near your front door. For added flexibility you can also pair your master panel with up to three IQ remotes (smaller versions of the main panel), allowing you to control your alarm in additional areas like a bedroom or home office.
Can I add motion sensors/PIRs to this package?
Motion sensors are compatible with the package and can be purchased as additional items. All our motion sensors are classed as pet friendly or pet tolerant as our engineers can modify them to stop the sensor detecting movement on the floor area. However, this relies on the size, weight and number of pets being within a limited threshold. They also require the pet to stay some distance from the sensor in order to be immune to pet movement. Therefore, if you want your pet to have free reign of your home when the alarm is set then we would not recommend adding these to your system. However, if you keep pets in one room while you are out or asleep then we would recommend using shock sensors in this area and motion sensors in the rest of your home as an additional level of security.
Can I add more cameras to this package?
Our Pet Friendly package comes with one Wi-Fi camera as standard but more indoor and outdoor cameras can be added as required.
Learn more
Not what you're looking for?
Explore our wider range of home security systems and packages below.
Add-ons to take a load off
Want to tailor your package with add-on products that make sense for your home? It's easy.
All-Inclusive Service
Expert support for complete peace of mind with no unexpected extras.
Professionally Installed
A DIY alarm's OK until it's not OK. With ADT, any issues are ours, not yours.
Monitoring 24/7/365
Unlike DIY security systems we don't just sound the alarm, we answer it.
Remote engineering
We're able to fix up to 80% of issues without an engineer on-site.
Installed to the highest standard
Full NSI Gold accreditation means we're one of the industry's most trusted names.
Bank-level encryption
Hackers have no business in your home – your data's safe with us.