ADT Burglar
Alarm Package
From £35.99 per month
Installation from £99
Then from £35.99 per month inclusive
Your home is in safe hands with an all-inclusive ADT burglar alarm, the perfect choice for those who are serious about security. With touch screen control, clever ADT Smart Services connectivity and a deterrent siren, this user-friendly alarm system provides maximum peace of mind.
Package Features
This entry level package comes with six key components, designed to work in harmony to give you an outstanding level of security in key areas of your home.
ADT Bell box with flashing LED light
Touch screen alarm panel with integrated keypad and deterrent siren
1x Wireless door contact
2x PIR motion sensors
ADT Smart Services app
Professionally installed
Monitored 24/7/365 by our dedicated alarm centre
Perfect for homes and families of all sizes – invest in extra PIR sensors and door contacts to create up to 64 zones with 48 different user codes
Package Information
Every one of our packages comes with peace of mind built in. This modern wireless intruder alarm package offers outstanding wireless functionality combined with optimum reliability and performance.
Panel Dimensions
H: 5" (12.7cm) W: 7.75" (19.7cm) D: 0.75" (1.9cm)
Integrated Siren
Integrated siren produces >84 decibels within the home
Bank Level Encryption
Highly secured AES-128 encrypted wireless communication surpasses the strictest industry standards
Energy Saving
Adaptive transmission power saves energy and significantly extends battery life
Adjustable Sensitivity
Adjustable height and weight sensitivity on all PIR motion sensors
Package Pricing
Every home is different – that's why we tailor all of our packages to meet your needs. All our packages are installed by expert engineers, with installation prices for our entry level Burglar Alarm package starting from just £99.
Depending on the level of monitoring you require, monthly costs are calculated based on your security needs. With our 24/7/365 monitoring and all-inclusive maintenance services available from just £35.99 per month, you're sure to find security at a price that suits you. Get a free, no obligation quote today.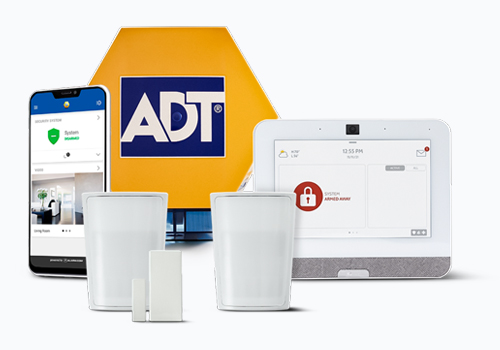 Discover the package
Click the buttons below to find out more
x
ADT Bell BoxThe name that tells everyone you're serious about security
x
IQ2 Alarm PanelSmart alarm panel with touchscreen keypad, glass break detection and 5MP camera
x
PIR Motion SensorDetects general movement, measuring infrared (IR) light radiating from objects in its field of view.
x
Wireless Door ContactTransmitters suitable for fitting discretely on windows and doors, which – when opened – alert the alarm panel.
x
ADT Smart Services appSet and unset your alarm from your smartphone, and enjoy a whole host of other functions.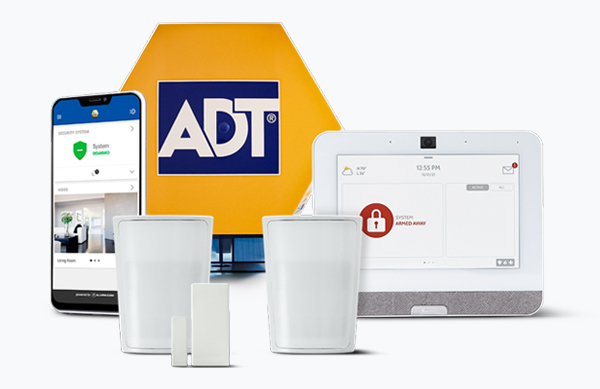 Burglar Alarm FAQs
Can I purchase an alarm system without the monthly monitoring costs?
We believe that a monitored intruder alarm is the heart of a good home security system. That's why we only offer monitored systems, because when your alarm is monitored it's never ignored.
Is the panel portable or do I need to have it fixed to the wall?
Our sleek IQ alarm panel is designed to match the aesthetics of your home with no need for complicated cabling. A single, easily hidden wire runs to a domestic plug socket, meaning you can choose to mount it to a wall or have it freestanding on a table or sideboard. Because your panel is used to set and unset your alarm, we recommend you place it near your front door. For added flexibility you can also pair your master panel with up to three IQ remotes (smaller versions of the main panel), allowing you to control your alarm in additional areas like a bedroom or home office.
Why is the bell box not equipped with an external siren?
External sirens are designed to let those nearby know that a home may be under threat (unfortunately, research shows that more often than not they're simply ignored). This function is irrelevant for anyone with an ADT alarm because our monitoring centre will already have been alerted. That's why we place our siren inside the home where it can do a better job of disorientating any intruder who may have gained access.
Learn more
Not what you're looking for?
Explore our wider range of home security systems and packages below.
Add-ons to take a load off
Want to tailor your package with add-on products that make sense for your home? It's easy.
All-Inclusive Service
Expert support for complete peace of mind with no unexpected extras.
Professionally Installed
A DIY alarm's OK until it's not OK. With ADT, any issues are ours, not yours.
Monitoring 24/7/365
Unlike DIY security systems we don't just sound the alarm, we answer it.
Remote engineering
We're able to fix up to 80% of issues without an engineer on-site.
Installed to the highest standard
Full NSI Gold accreditation means we're one of the industry's most trusted names.
Bank-level encryption
Hackers have no business in your home – your data's safe with us.