There's a myriad of home security systems on the market. So to help get you started, here's a guide to the different types and the benefits - and drawbacks - they offer.
CCTV system & IP cameras
A CCTV system is an effective home security method, and the quality has advanced rapidly over the last 10 years. Simply put, CCTV uses video cameras to monitor both inside and outside your property. These live images can then be viewed on a range of devices, including handsets, laptops, computers, and tablets.
According to a recent survey of former burglars by Co-op Home Insurance, CCTV and barking dogs are listed as two of the biggest deterrents. This highlights the effectiveness of CCTV cameras as a functional home security system. What's more, CCTV footage can also make it easier to prosecute any intruders, aiding police in an investigation.
IP cameras, on the other hand, are a type of digital camera that send and receive image data via an IP network. Also known as a Wi-Fi camera, this system hooks up to your home broadband and allows you to view live and recorded footage through a web portal or a dedicated app. Easy to install, you can choose both indoor and outdoor Wi-Fi cameras, making it easy to keep an eye on everything.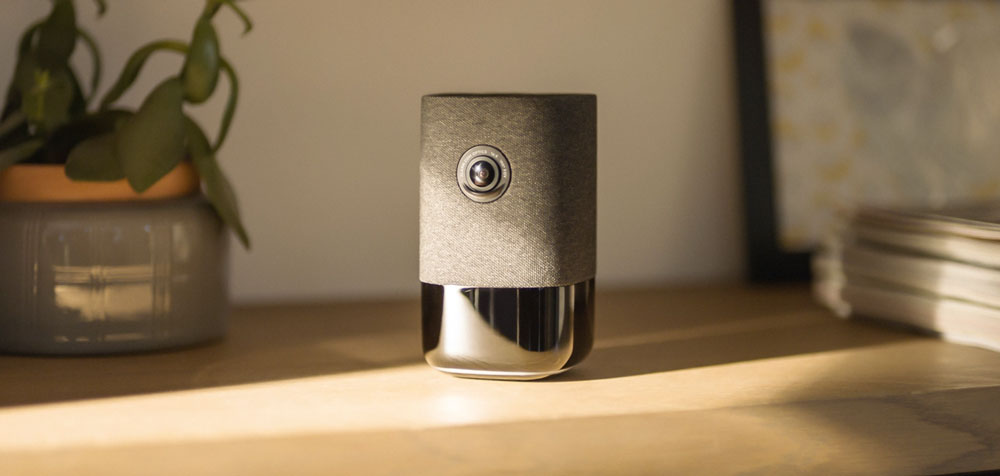 Traditional Wired Alarm system
A wired alarm system is designed to detect break ins, whether that's in a commercial building or domestic. If an intruder is detected, then an alarm will sound.
Despite being superseded by more modern wireless alarm systems, they're not completely obsolete just yet. As the name suggests, a wired alarm uses a cable that runs from its control panel to each sensor located around your home.
Wired alarm systems tend to be cost effective but can be unappealing for many homeowners, especially if it's not possible to hide the wires. Having to pay to get unsightly wires chased through walls is the last thing anyone wants for their property, especially when this can be easily avoided, as with a wireless alarm system.
Typically, wired alarm systems are used by commercial properties, as it's often a requirement of their insurance company. In line with European standards, there are 4 Grades detailing the level of sophistication needed, depending on the risk factors of the company.
Wireless Alarm System
Wireless alarm systems operate by connecting to your home's Wi-Fi system, utilising detectors that send signals via a control panel. With a monitored alarm, when an alarm detects an intruder, the detectors send the data directly to the ACR (alarm receiving centre).
One benefit of a wireless alarm system is that the sensors can easily be placed in any position you choose, without any wires getting in the way or expensive installation costs.
Although wireless systems are slightly more expensive to their wired counterparts, they can be easily fixed and replaced.
According to the police 84% of burglars avoid a house that has a visible burglar alarm, while 77% of households with at least a basic home security system have not been burgled. This underlines how much of a deterrent an alarm can be to a potential intruder.
Unmonitored/Bells only alarms
Unmonitored alarms or bells only alarms are exactly that, projecting a loud alarm sound if an intruder is detected, rather than sending an alert to a central monitoring centre. These work as a deterrent more than anything else and can be professionally installed or installed yourself. In the event of a confirmed alarm activation, monitored alarms alert you, your nominated keyholder(s) and even the police depending on your level of cover, giving you the peace of mind your alarm is never ignored.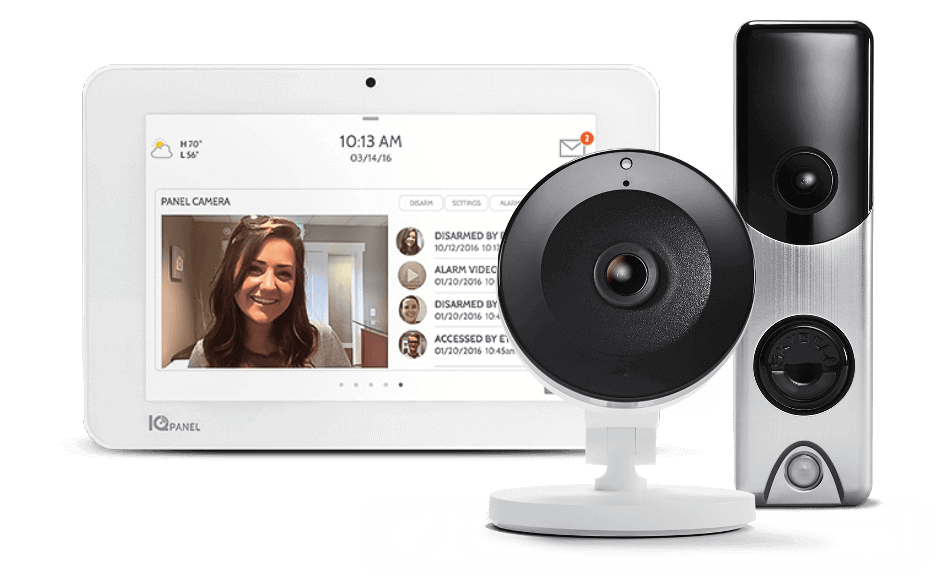 Smart Home Security
Smart home security works by integrating entry sensors and sirens to a range of devices, including lights, thermostats, smart doors, and alarms. This is done by connecting to your Wi-Fi, which allows your devices to share information.
Smart security cameras can also provide you with added peace of mind, especially when you're not in. Smart cameras send a live stream of your property directly to your mobile, tablet or desktop, enabling you to keep an eye on your home. Plus, you receive a notification when your smart camera detects something abnormal.
When you choose an ADT Smart Home system, you can include smart plugs as an add-on. This means if your video doorbell or outdoor camera detects motion, not only will you be notified, but a connected light switch will be switched on as an additional deterrent.
Our add-on cameras also have intelligent in-built analytics to distinguish between animals, humans, and vehicles, which means fewer false alarms.
There's a whole host of smart home security for you to choose from. To discover the best home security system for you and your property, be sure to research the diverse types and brands beforehand, as the standard of home security varies across companies and providers.
The Pros and Cons of Professional Installation vs. DIY Installation
It's quite common for homeowners to consider installing a home security system themselves, rather than opting for a professional. Here are some of the things to consider before you make your decision:
Professional Installation
Pros
Meets industry standards
Fully accredited
Security expert can answer any questions
Full demonstration to make the most of the system
Cons
Can be expensive
May need to wait for an installation date
Installation fees
May require a contract
DIY Installation
Pros
No installation fees
Works around your schedule
You control the setup
No contracts or ongoing maintenance fees
Cons
No aftercare available
Takes up free time
Without professional install the system may not operate correctly
If DIY systems go wrong, you may not even know that it's not working
The headline price of DIY alarm systems can sound appealing, but what happens if anything goes wrong? Don't forget to check whether you're covered in the event of a malfunction or installation error. Some professional systems actually include maintenance and servicing as part of a monthly contract.
The Best Security Systems for Different Types of Households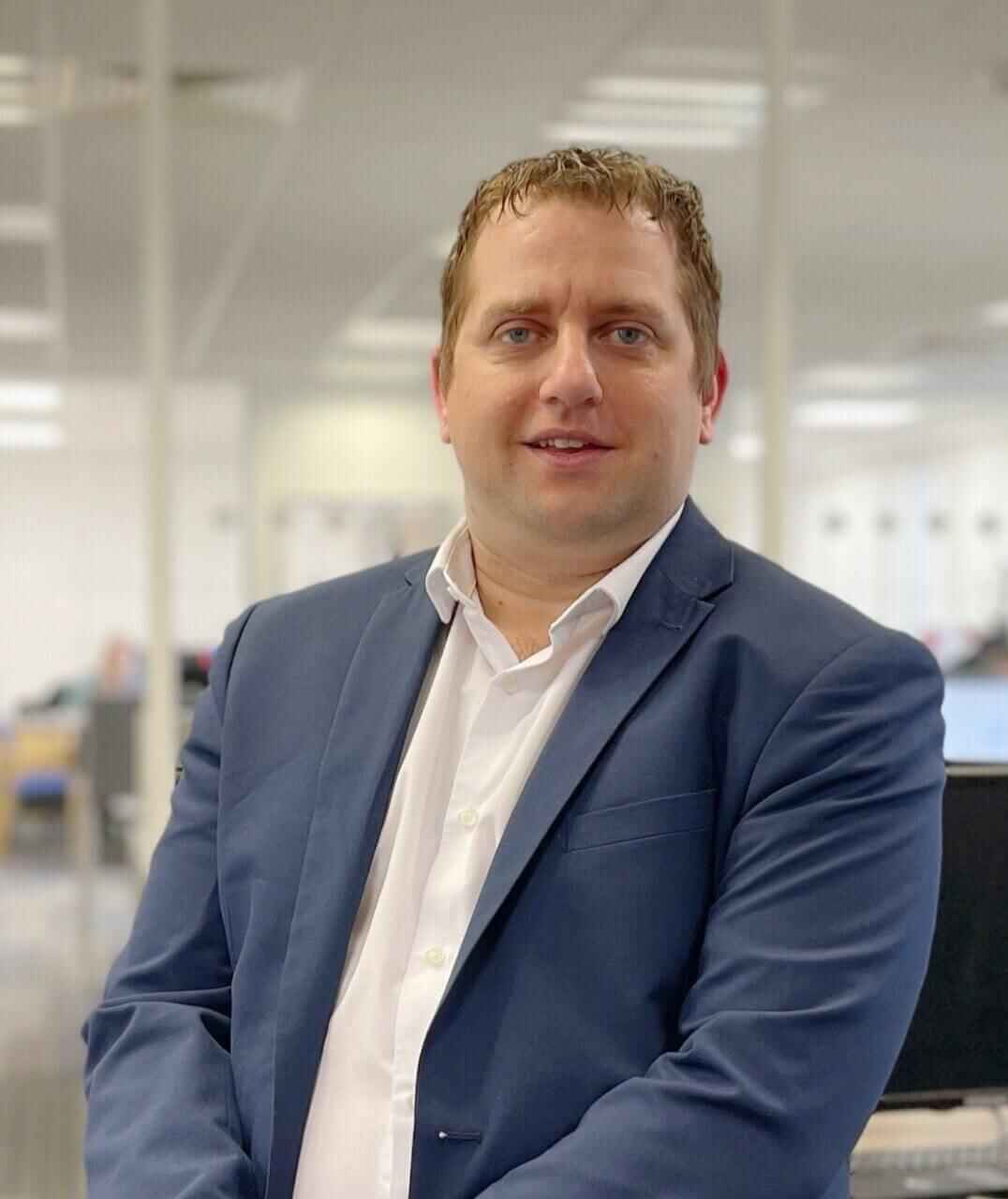 Unsure which is the best home security system for you and your home? Aaron Scott, Head of Sales at ADT, shares his recommendations below, with advice on the most suitable home security for you and your property type.
Apartments or Flats
One of the most common concerns I've found over the years when speaking to customers who live in flats and apartment blocks, is the constant flow and volume of people coming and going. Doors are left open and people tailgate – the big risk is once someone's inside, it's easier to go unnoticed. So, while there may be security precautions already in place in the building, like access control systems and unique door locks, a monitored home alarm can be a perfect addition.
Smoke and heat detectors are also one of my top recommendations for flats and apartments, due to the layout of these buildings and the risk of a fire breaking out. It can spread rapidly to other flats before the danger is even noticed. Any fire can be destructive, but in flats in particular, it can be catastrophic as it can impact hundreds of people very quickly.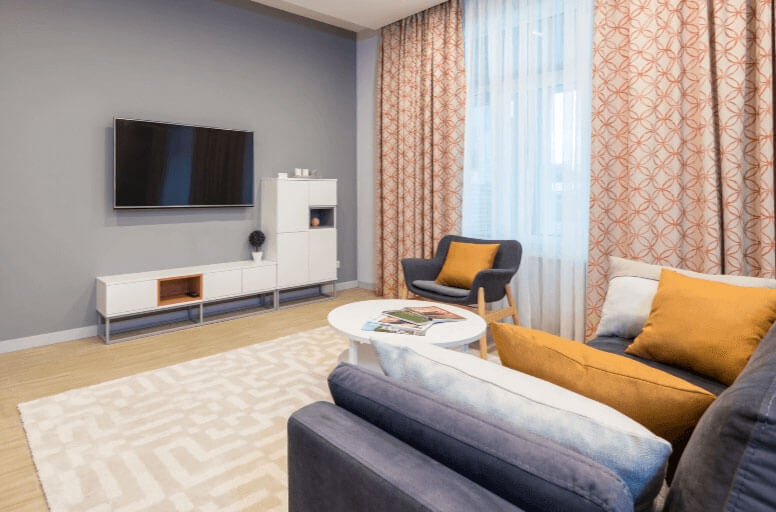 Busy Homes
Typical busy homes with 2, 3 or 4 bedrooms tend to be more attractive to thieves due to the number of valuables perceived to be there, such as games consoles, iPads, and bikes. Also, families or working households are often out of the home for long periods of the day.
A professionally installed and monitored smart home security package is the ideal, practical solution for busy homes. With plenty of options when it comes to building the right package, it's a great way to keep your home, and everything in it, safe.
Other great additions to home security are smart cameras and video doorbells, which have increased in popularity over the years. They give you 24/7 access to what's going on in and around your home while you're not there. Placing cameras at the back of the property is something my team and I always recommend, especially if it's easily accessible.
As well as acting as deterrents, smart cameras used inside and outside of the home also allow you to check up on the things that matter to you, like your pets, or making sure the kids get home safe from school. With ADT Smart Home you can set up personalised alerts and view saved images and live footage from our app.
And finally, garages. Whether it's connected to your home or not, it shouldn't be forgotten about when weighing up what security you need. Wireless door contacts can often be an option for many here.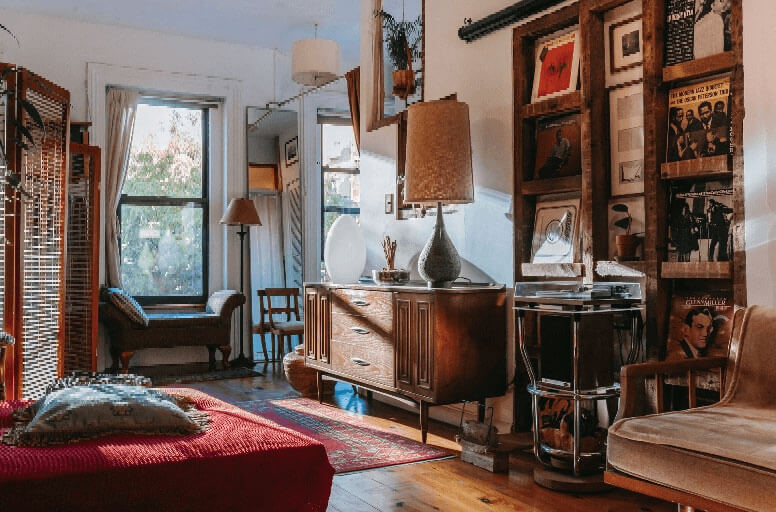 Urban Homes
According to the Department for Environments Food and Rural Affairs, crime rates tend to be higher in urban areas compared to rural areas. For this reason, a monitored home alarm should always be at the heart of good home security. Additionally, CCTV, smart cameras, and video doorbells act as a great visual deterrent. What's more, for anyone with an ADT alarm system, the bell box fitted on the exterior of your wall is an additional deterrent. Burglars will be fully aware that the ADT alarm is monitored and that any attempt of a break-in will be immediately responded to.
At ADT we know not every movement outside your home is a threat, that's why our smart cameras have built-in motion detection and video analytics, which can distinguish between people, vehicles, and animals. You can set 'rules' that determine what your cameras focus on, reducing the amount of nuisance notifications you might receive from things like passing cars or even next door's cat.
Smart plugs are also a useful add-on and can often give the illusion you're home, even when you're not. With ADT Smart Home, all our devices work in harmony with the alarm, so you can set your lamps to automatically come on if an outdoor camera detects motion or the smart doorbell is pressed.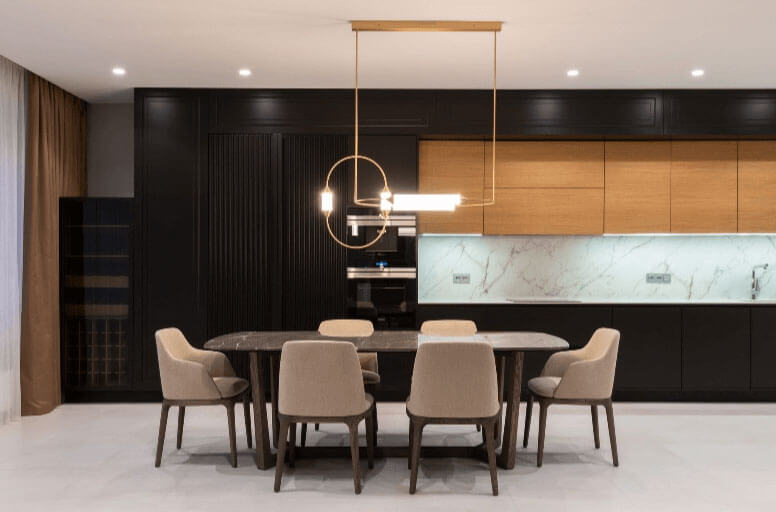 Rural Homes
To protect your rural home from any trespassers or intruders, a fully integrated and monitored smart home security system is the way forward.
Unfortunately, rural crime is on the rise. A recent NFU rural crime survey of farmers across 10 regions in England and Wales found that 31% of farmers experienced at least one crime during 2020. This means your home needs protecting now more than ever.
When it comes to protecting the exterior of your property, I always tell my customers to do as a thief would and consider all entry points into your home. Bolstering your security with additional wireless door contacts, or shock sensors for windows and doors at the back of your property, can be more cost effective than cameras – plus, they require no wiring.
If you have sheds or outbuildings, you should consider installing additional devices on top of an alarm, such as smart cameras or even a standalone CCTV system for optimum security
I always recommend choosing a police response system when it comes to monitoring. This is a fantastic alternative to keyholder response, especially if you don't have family or neighbours close by who could be contacted in the event of an alarm activation. Police response gives you confidence that should the worse happen, you know the right people are notified, who will act fast to minimise damage. It's worth noting not every security provider holds the correct accreditations or is certified to offer police response, so it's always worth checking.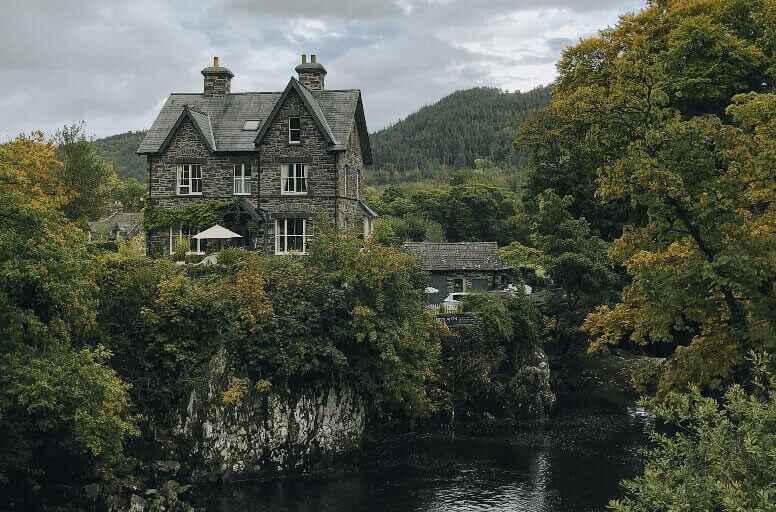 FAQs
We've included answers to the most frequently asked questions so you can quickly get the information you need.
Which home security system is right for me?
That depends on the size of your property and budget. A wireless alarm tends to be the most common home security system that can be fitted in the majority of homes around the UK.
What should I look for when buying a security system?
There's a wide range of home security systems on the market, so looking for a brand-new one can be a difficult decision. Here's what you should consider:
There's no 'one size fits all' home security package. As tempting as it is to be drawn in by gadgets and tech, always ensure that your needs, security concerns and risks are being met.
Don't be tempted to go for the cheapest option. If the unthinkable happens, the last thing you need is for your security system to fail when you need it most.
Find a reputable, experienced bran­d with good customer feedback on sites like Trustpilot.
Enquire about power outages – will your alarm operate in the event of a power cut?
DIY systems are all OK until they're not OK. Always ensure any work is carried out by professional and accredited engineers. Many security companies will offer after care and support to ensure your alarm remains in working order.
Is a Home Security System Worth It?
Home security can significantly reduce the chances of a crime in your property. In fact, the Eco Experts found that 77% of households with at least a basic home security system have avoided being burgled. Home security systems not only put off potential intruders but can also deter them in the act too.
Are you interested in home security? Speak to one of our friendly experts today to discuss the best home security system for you, and gain specialist guidance. At ADT, every one of our home security systems is installed by a professional and comes with 24/7 monitoring. So, you can get peace of mind knowing you and your home are in safe hands.
Are you interested in
home security?
At ADT, we offer more than just an alarm. We work with you to create a tailored package to suit your home security needs. As well as knowing what security options are on the market, it's important your choices are based on a combination of your personal needs and the potential areas of risks. This is something myself and my team do as part of any security consultation. And alongside our 24/7/365 monitoring, service, and maintenance, you'll get complete peace of mind when it comes to safety and security.
Follow us
Visit and follow us on our social media channels for more expert home security advice.