ADT Smart Home
Outdoor Wi-Fi Camera
Get excellent visibility of your home's exterior, wherever you are. Providing crystal-clear imagery, intelligent Video Analytics and smart alerts to keep you informed 24/7, our Outdoor Wi-Fi Cameras will keep you safe and secure.
Features
Suitable for both indoor and outdoor use
HD video footage in full colour, as well as night vision capacity
Record 24/7 footage in high-definition courtesy of two additional memory cards (available for a maximum two cameras)
Live and recorded footage are both accessible via the ADT Smart Services app, or online portal
Smart Video Analytics included – these can distinguish between people, vehicles and animals in the field of view, to avoid false alarms
Waterproof and sealed against dust
Clear LED indicators which changes colour based on the camera's status
Easy to integrate with other ADT Smart Home products
Outdoor camera comes with SanDisk High Endurance SD cards with excellent storage (256GB)
You can store up to 3,000 clips collectively with your smart home system – these can be downloaded and accessed from your mobile too via the ADT Smart Services app
Product Information
With an ADT Smart Home Outdoor Wi-Fi Camera, you'll know about an unexpected guest before they reach your front door. Plus, our compact cameras have a sleek, modern design for an inconspicuous aesthetic that blends seamlessly with your property.
Fully equipped to detect and capture any activity outside your home in HD, this camera can also be linked to other ADT Smart Home devices. For the ultimate deterrent, you can even set your outdoor lights to activate automatically when even the smallest motion is detected on your perimeter.
Product specs
Dimensions
H: 2.5" (6.4cm) W: 2.5" (6.4cm) D: 4.5" (11.4cm)
Video quality
1920 x 1080p
Connectivity
Wi-Fi (2.4 or 5 GHz)
Image adjustments
Flip, brightness, contrast, saturation, sharpness, exposure all available in the ADT web portal.
Range
Up to 12m
Operating conditions
-25°C to 45°C, weather-resistant
Angle of view
3.0 mm, F2.0, 117°
Memory card format
SanDisk High Endurance SD card (256GB storage)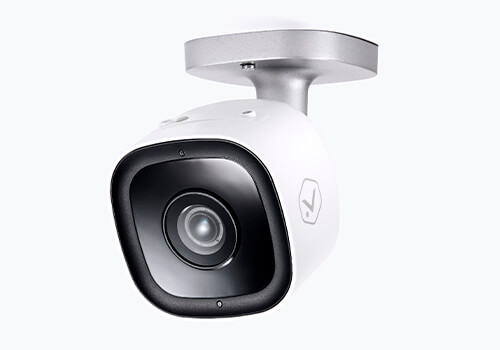 Discover the device
Click the buttons below to find out more
x
Built-in Motion DetectorGet instant alerts whenever motion is detected, and use Video Analytics
x
Full Colour HD VideoRecord in 1080p HD in the day, with night vision on board for recording in low light
x
Status LED LightDetect any problems with your camera's connectivity instantly
x
Flexible MountGet the perfect angle and placement to maximise your video coverage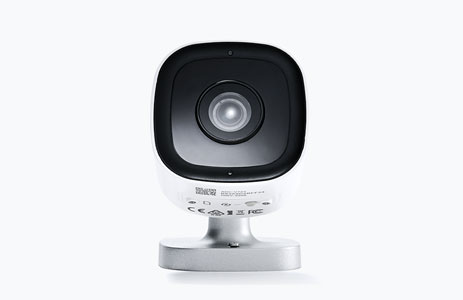 Outdoor Wi-Fi Camera FAQs
Can I purchase a Wi-fi camera without an ADT Smart Home alarm system?
At ADT, we believe that a monitored alarm system is crucial to reliable home security, and cameras provide that additional level of security. All of our Wi-Fi cameras can be purchased as add-ons to an existing ADT Smart Home intruder alarm system rather than as a standalone item. If you'd prefer a standalone video surveillance system, take a look at our HD CCTV packages.
What other ADT devices are compatible?
There's a collection of smart devices that work together as part of our ADT Smart Home package, including the Smart Home Video Doorbell, Indoor Wi-Fi Camera and Smart Plugs for lights.
Why do I need a High Endurance SD card?
A high endurance SD card is not only highly recommended, but now comes as standard too with all outdoor cameras. These are specifically designed for constant overriding of video recording without impacting quality, allowing your cameras to continuously record footage – 24/7.
How many cameras can use SD cards?
A maximum of two cameras are permitted to use SD cards per package (currently users can have 4 video devices per package – a combination of ADT Smart Home Video doorbell, Outdoor Wi-Fi camera, Indoor Wi-Fi Camera, and Two-Way Audio Smart Camera).
How do I view my live and saved footage?
Cameras included in your ADT package automatically record a combined 3,000 clips to our cloud server per month. To view your live and saved footage head over to the ADT Smart Services app or web portal for access to these clips.
Learn more
Included in
Our Outdoor Wi-Fi camera is available as an add-on with the below packages:
Works with
The ADT Smart Home Outdoor Wi-Fi Camera is fully compatible with the following products:
All-Inclusive Service
Expert support for complete peace of mind with no unexpected extras.
Professionally Installed
A DIY alarm's OK until it's not OK. With ADT, any issues are ours, not yours.
Monitoring 24/7/365
Unlike DIY security systems we don't just sound the alarm, we answer it.
Remote engineering
We're able to fix up to 80% of issues without an engineer on-site.
Installed to the highest standard
Full NSI Gold accreditation means we're one of the industry's most trusted names.
Bank-level encryption
Hackers have no business in your home – your data's safe with us.