ADT Smart Home
Indoor Wi-Fi Camera
Stay connected to your home, even when you're not there. Our indoor Wi-Fi cameras provide HD video footage day and night, and - thanks to built-in Video Analytics - will send you alerts whenever movement is detected.
Features
Full colour HD video, with night vision to see clearly in low light
Live video and recorded footage accessible via the ADT Smart Services app
Video saved to the Cloud, for that added peace of mind
In-built motion sensors and immediate notifications when movement is detected
Built-in image editing software: adjust brightness and contrast levels, increase sharpness and more
Product information
Stay connected to your home, wherever you are, with the ADT Smart Home Indoor Wi-Fi Camera. Simply connect the device to Wi-Fi, download the ADT Smart Services app and receive automatic alerts whenever there's movement in your home. You can even view real-time footage in HD, directly from the app or web portal.
Designed to be as discreet as possible, you'll barely notice our indoor Wi-Fi cameras once installed. Place onto shelves, or mount strategically onto ceilings or walls - with a 113-degree field of view, you can be confident key areas are covered.
Product specs
Dimensions
H: 2.75" (7cm) W: 2.6" (6.6cm) D: 3.67" (9.3cm)
Video Quality
1920 x 1080p
Connectivity
Wi-Fi (2.4 or 5 GHz)
Lens Specs
2.8mm, f1.85 aperture, 113-degree field of view
Infrared Range
Up to 5m
Compatibility
Apple iOS 10.X or higher; Android 4.4 or higher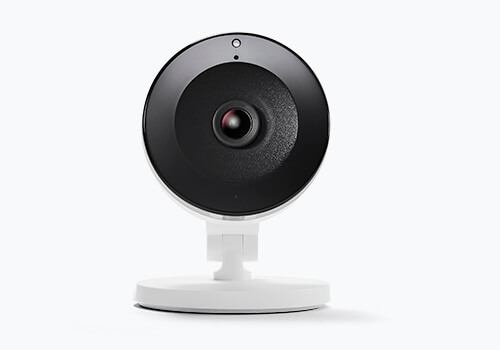 Discover the device
Click the buttons below to find out more
x
Status LED LightIdentify connectivity issues in an instant
x
Built-in Motion DetectorReceive instant alerts and video analytics when movement is detected
x
Full Colour HD VideoRecord in 1080p HD, to provide clear footage even at night
x
Flexible MountEasy coverage for key areas of your home, thanks to flexible placement options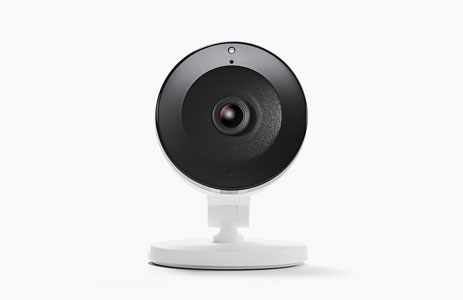 Indoor Wi-Fi Camera FAQs
Can I purchase an indoor Wi-Fi camera without an ADT Smart Home alarm system?
At ADT, we believe that a monitored alarm system is crucial to reliable home security, and cameras provide that additional level of security. All of our Wi-Fi cameras can be purchased as add-ons to an existing ADT Smart Home intruder alarm system rather than as a standalone item. If you'd prefer a standalone video surveillance system, take a look at our HD CCTV packages.
What other ADT devices are compatible?
There's a collection of smart devices that work together as part of our ADT Smart Home package, including the Smart Home Video Doorbell, Indoor Wi-Fi Camera and Smart Plugs for lights.
How do I view my live and saved footage?
Cameras included in your ADT package automatically record a combined 3,000 clips to our cloud server per month. To view your live and saved footage head over to the ADT Smart Services app or web portal for access to these clips.
Learn more
Included in
Our Outdoor Wi-Fi camera is available as an add-on with the below packages:
Works with
The ADT Smart Home Indoor WI FI Camera is fully compatible with the following products.
All-Inclusive Service
Expert support for complete peace of mind with no unexpected extras.
Professionally Installed
A DIY alarm's OK until it's not OK. With ADT, any issues are ours, not yours.
Monitoring 24/7/365
Unlike DIY security systems we don't just sound the alarm, we answer it.
Remote engineering
We're able to fix up to 80% of issues without an engineer on-site.
Installed to the highest standard
Full NSI Gold accreditation means we're one of the industry's most trusted names.
Bank-level encryption
Hackers have no business in your home – your data's safe with us.