Seasonal Crime Hotspots

When and where do crimes in the UK most often occur?
Anyone at any given time of the year can be the victim of a crime, whether it be a burglary, mugging or any other crime. This fact, however, does not lessen the effects of being targeted by such a crime.
One way that you can better protect yourself against crime such as burglary is to have a home security system installed.
To help you be safer, our experts at ADT have looked at crime rates for different police force areas in the UK. We'll be providing you with general crime rates per 100,000 people for these areas, as well as the burglary crime rates per 100,000 people. And, of course, we have looked at these figures per quarter, to see which time of the year these crimes are most likely to happen.
UK police force areas with the highest crime rates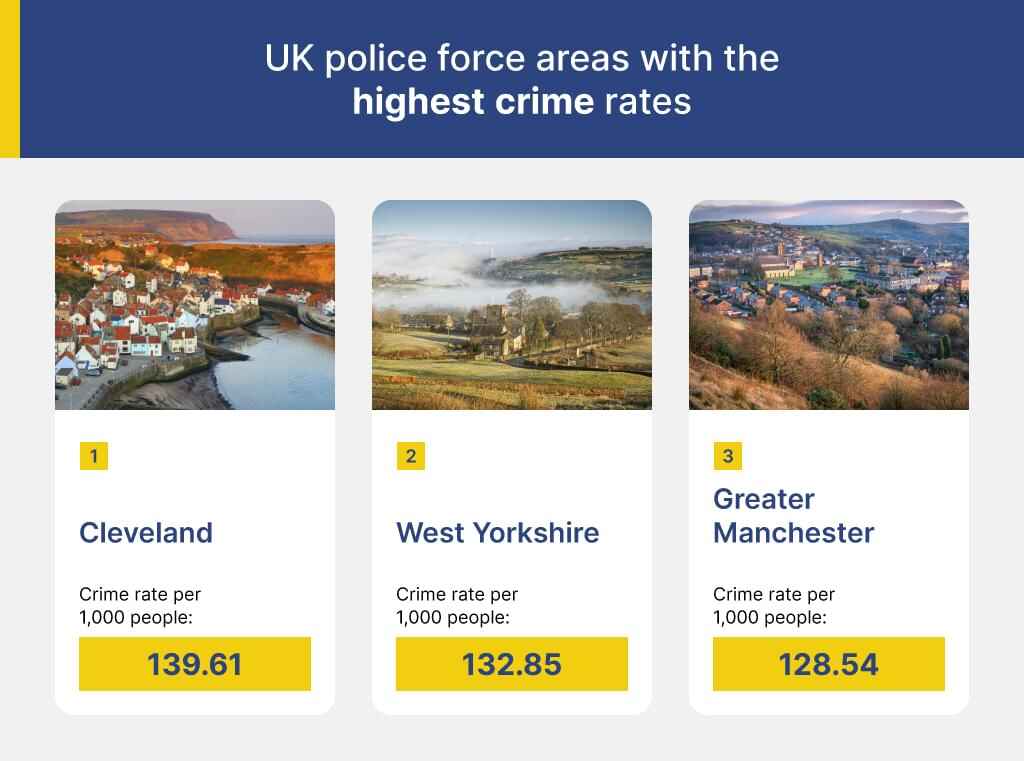 1) Cleveland
Crime Rate Per 1,000 People: 139.61
Cleveland is the third-smallest police force area in the UK, comprising smaller local police forces, such as Middlesborough and Hartlepool. It also comes out as the police force area with the highest crime rate per 1,000 people, recording 139.61 crimes from 2021 to 2022.
2) West Yorkshire
Crime Rate Per 1,000 People: 132.85
West Yorkshire's police force is the fourth largest in England and Wales, based on the number of personnel. It encompasses the police forces of both Leeds and Bradford, as well as other major cities in West Yorkshire. However, with a crime rate of 132.85 per 1,000 of the population, it has the second-highest crime rate for 2021-22.
3) Greater Manchester
Crime Rate Per 1,000 People: 128.54
The Greater Manchester police force is responsible for the metropolitan area of Greater Manchester, in North West England. With a population of around 2.8 million people, as per estimations from mid-2020, it is the third-most populous police force area in the UK.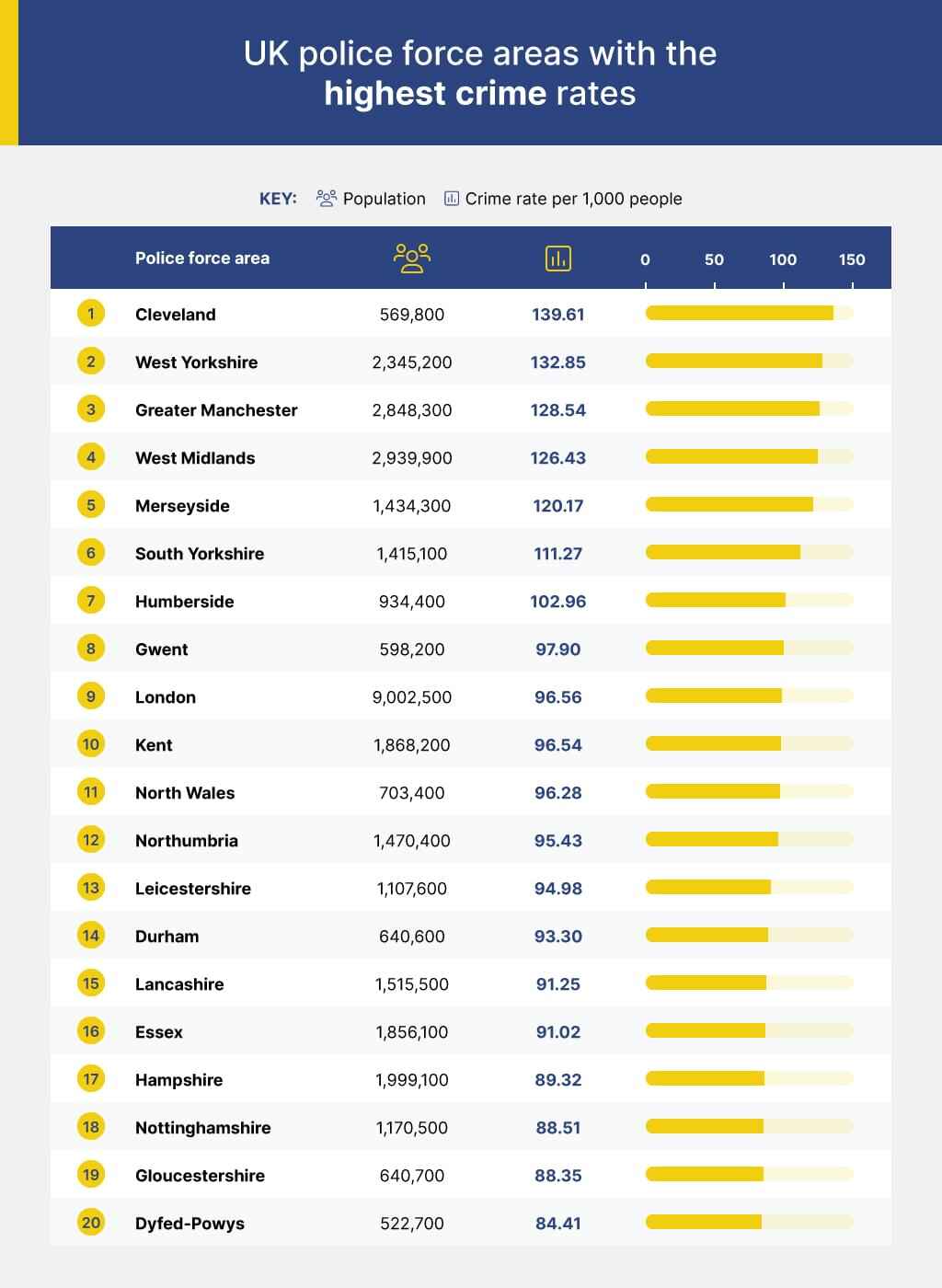 What time of the year do crimes happen the most?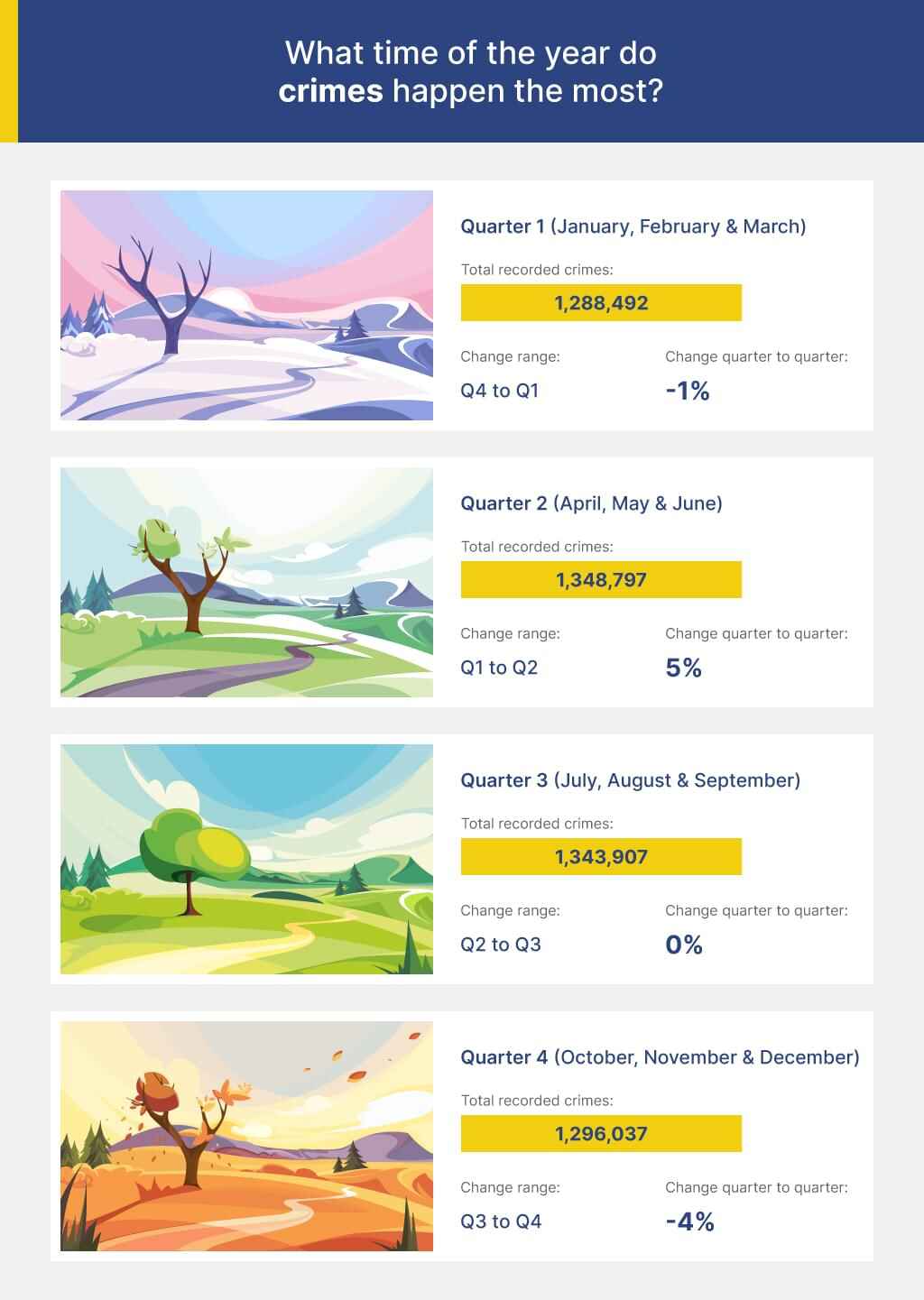 Crimes, of course, can take place or be committed at any time of the year. However, we wanted to see if there were peak times in which the UK's crime rate increases. Below we look at the increase in the crime rate from quarter to quarter for 2021 to 2022.
Crime in the UK appears to peak going from the first quarter of the year into the second quarter, increasing by 4.68%. This covers April, May and June, the start of spring. Older research suggests that crimes against individual people, as well as crimes against public order, occur more commonly during this time of the year, as well as "crimes against morals", which by definition are crimes considered not to have a victim where consenting adults are concerned..
However, for every quarter from there, there is a steady decrease, the largest decrease is seen from quarter three to quarter four at 3.56%. Perhaps this is due to other forms of crimes decreasing, with only burglaries and property crimes still being prevalent.
UK police force areas with the highest burglary crime rates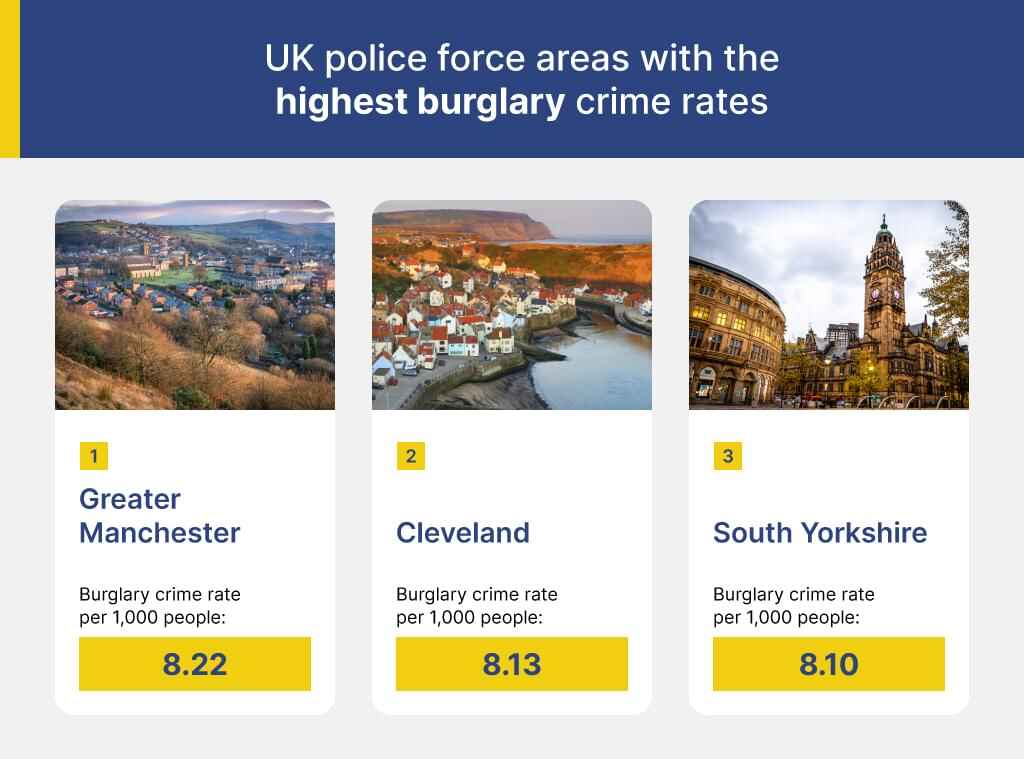 1) Greater Manchester
Burglary Crime Rate Per 1,000 People: 8.22
Greater Manchester, having already ranked with the third-highest overall crime rate in the UK, also has the higher burglary rate in the UK. From 2021 to 2022, this police force area recorded 8.22 burglary offences per 1,000 of the population.
2) Cleveland
Burglary Crime Rate Per 1,000 People: 8.13
Cleveland, as previously mentioned has the highest overall crime rate in the UK and is also one of the smallest police force areas in the UK. Having recorded 8.13 burglary offences, per 1,000 people, from 2021 to 2022, Cleveland also has the second-highest burglary rate in the UK.
3) South Yorkshire
Burglary Crime Rate Per 1,000 People: 8.10
South Yorkshire's police force, which now encompasses Sheffield, Barnsley and Rotherham, has the third-highest rate of burglary offences in the UK. From 2021 to 2022, the area recorded 8.10 offences of that nature per 1,000 people.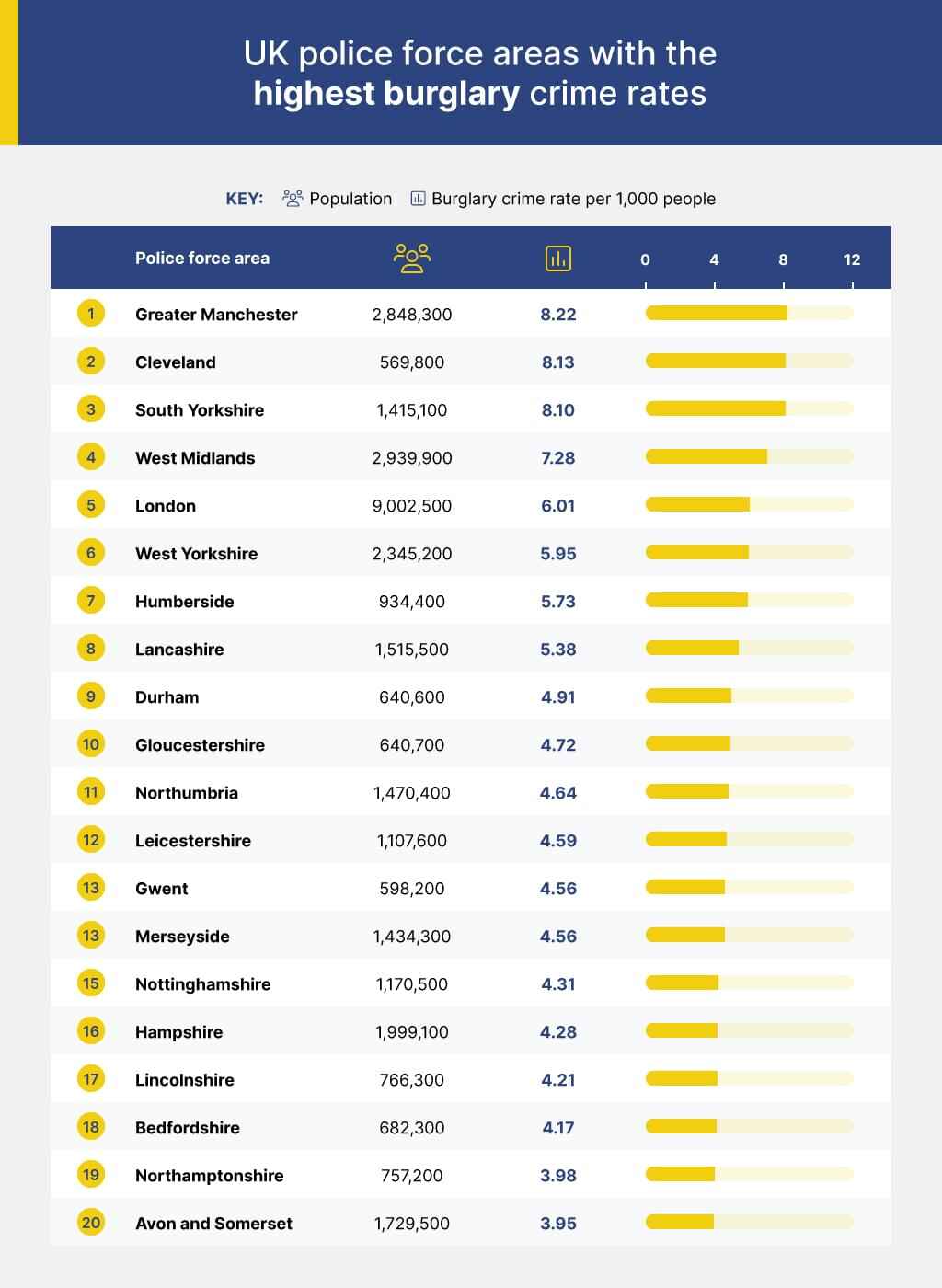 What time of the year do burglary offences occur?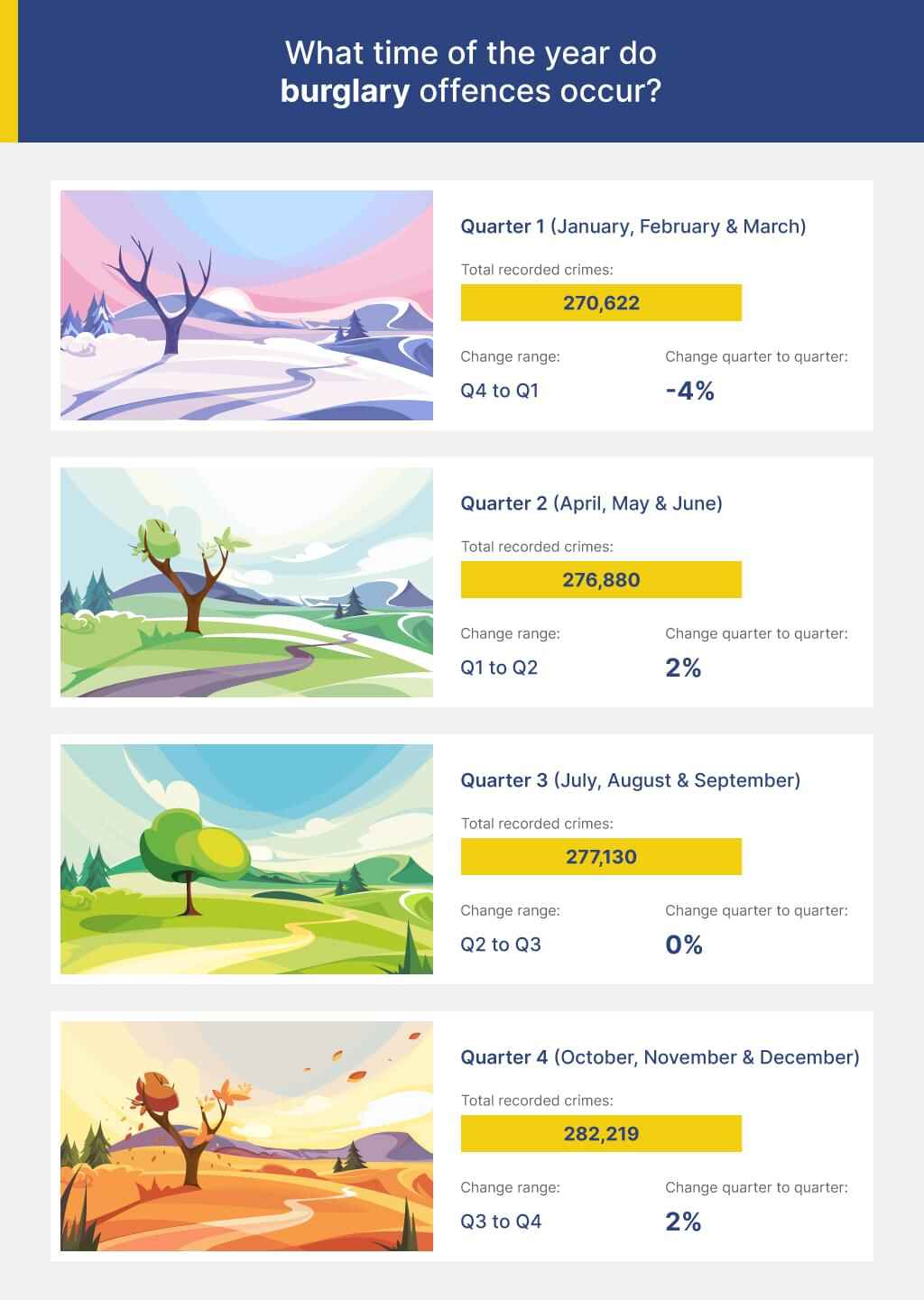 The biggest increase in the burglary rate was from quarter 1 to quarter 2, with a growth of 2.31%. Which would indicate that there is a noticeable increase in burglaries going from late spring into early summer. This contradicts the notion that nighter lights don't necessarily dissuade criminals, meaning that you should take extra care to secure your home during these months too.
Overall, the total volume is burglaries is not too dissimilar in spring and summer when compared to the numbers in winter and autumn. This is illustrated as each quarter recorded their number of burglaries to be around the 270,000 to 280,000 mark.
The next largest increase was from quarter 3 to quarter 4, where the burglary rate increased by 1.84%, just going into the holiday season. And it is commonly known that burglaries and property crimes are likely to occur during this period, with houses being stocked with Christmas goods.
And the largest decrease in burglary is from quarter 4 back into quarter 1, coming out of the holiday season. Perhaps this is due to Christmas being over and done with, and criminals perceive that there is less opportunity for them.
Tips to protect your home against burglar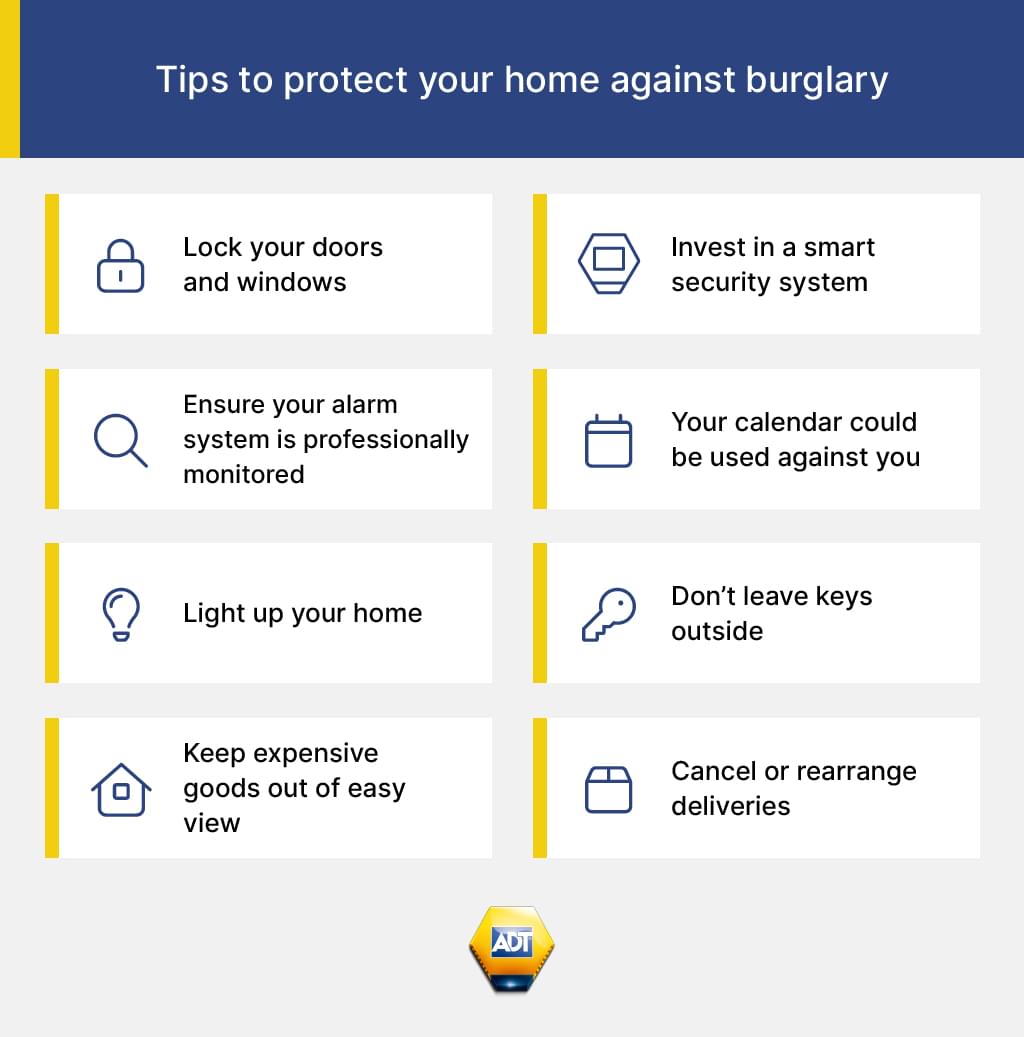 1) Lock your doors and windows
This is probably the most obvious tip to provide, but with everything you might have going on in your day-to-day life, it can slip your mind. If you only think you've locked your doors, you should go ahead and double-check. The same applies to your windows too, any points of entry must be locked when you go to bed or leave the house. For an added level of security, you could also add an extra lock to your doors and windows, ideally deadlocks.
2) Invest in a smart, home security system
A more modern approach to protecting your home is to install a smart home security system, which is becoming a much more popular option. These systems come with a host of features, such as allowing you to check live and recorded video footage from cameras and video doorbells. They also allow you to remotely set and unset your alarm from your phone. Additionally, you can receive arming reminders if you leave home without setting your alarm.
3) Ensure your alarm system is professionally monitored
You can't always be sure to catch alerts sent to your phone, but with a professionally monitored alarm system, you can be at ease. These systems use an alarm receiving centre to monitor your alarm 24/7/365 and in the event of an alarm activation, either for burglary or a fire for instance, the alarm receiving centre will be informed, you and your keyholders contacted and if necessary the emergency services will be instructed to attend, ensuring a swift response.
4) Select an NSI accredited home security provider
When looking for a home security provider, be sure to check if they are certified by the National Security Inspectorate. There are two certifications awarded by the NSI, silver and gold, both of which are decided by a vast number of factors, including company finances, general and maintenance contracts and twenty-four hour security cover. When security companies are NSI certified, you can be sure that they are highly professional, technically competent and that they are reputable and trustworthy. Furthermore, depending on the rating given by the NSI, you may end up being offered a reduced premium on your insurance.
5) Your calendar could be used against you
This one is a little more outside the box, but if you leave your calendar close to a window, for instance, you're potentially showing everyone your plans. Doing so could be showing off your holiday plans or other events when you might not be home. Planning things ahead of time is fine, but just be sure not to leave those plans where burglars or other nefarious individuals could benefit.
6) Light up your home
Lighting your home is another way to signal to a burglar that your home is occupied, even if it isn't, and as such deters attempted break-ins. Smart plugs can be used like a traditional timer switch, but you can stagger the times they come on and you can operate the lights in your home remotely, no matter where you are. Also, your video doorbell and camera devices can work in collaboration with smart plugs so when they detect the motion of people outside, the system can switch on lamps plugged into smart plugs.
7) Don't leave keys outside
This is an all too common practice, however, you should avoid leaving a spare key outside, even in the case of emergencies. There are better contingencies to take to ensure whoever needs access to the key can reach it. For example, you could leave it with nearby relatives or trusted friends or neighbours.
8) Keep expensive goods out of easy view
Where possible, you should avoid leaving expensive and valuable items in clear view. Therefore, move expensive items away from windows and such. Putting valuables in clear sight makes it easier for burglars to scope out your property, making it easier to target your most expensive items to steal.
9) Cancel or rearrange deliveries
If you're planning on going away for any period of time, you should consider cancelling or making alternative arrangements for any Amazon or Evri deliveries. Often, drivers of these delivery companies may leave parcels on doorsteps or other "safe places", assuming you'll be home shortly to collect them. However, this is a clear indication to burglars that you aren't home, and as such your property may become a target.
Methodology
We wanted to look at crime and burglary rates throughout the UK, doing so, we looked at data by police force area and broke it down into quarters of the year.
For the crime rate and burglary rate figures, we used ONS, looking at their "Crime in England and Wales: Police Force Area data table" for the year ending September 2022. These rates are shown as per 1,000 of the area's population. For London, we combined the City of London figures and Metropolitan Police figures - shown in the table as "London".
We then used UK Government data obtained from an FOI to view their "Police recorded crime Community Safety Partnership open data tables, from the year ending March 2016 to year ending September 2022" datasheet. We then added up the total number of all crimes for each quarter and the total number of just burglary crimes for each quarter, then calculated it as per 1,000 of the total population of the police force areas included in that dataset.