The World's Most Famous Robberies

Pulling off a heist isn't as easy as it seems in the movies. It often takes thieves years of careful planning to get past armed guards and high-tech smart alarm systems to successfully escape with their ill-gotten gains.
But who pulled off the biggest heist in history, and how much would their loot be worth today?
We've pulled together a list of some of the most audacious robberies, burglaries and heists to find out. We've also taken a look at the biggest celebrity robberies, what was stolen, how much it cost them, and the areas losing the most cash to burglaries. Additionally, we have provided some tips on what makes antiques valuable and how to keep your valuables safe.
The world's biggest robberies
1) The Dresden Art Jewellery Heist
Item(s) Stolen: Jewellery
Value at time of crime: £927 million
Current value: £1 billion
Taking the top spot is the Dresden art jewellery heist, with the stolen items estimated to be worth just over £1 billion today. Thieves disabled security alarms and cut through iron bars to get to the jewels in Dresden Castle's Green Vault Museum. The thieves made off with three sets of priceless 18th-century jewellery, including a 49-carat diamond.
2) The Central Bank Of Iraq Robbery
Item(s) Stolen: Cash
Value at time of crime: £575 million
Current value: £926 million
Up next is The Central Bank Of Iraq Robbery, with the robber's loot worth an estimated £926 million today. The robbery was masterminded by Iraqi dictator Saddam Hussein in the run-up to the battle of Baghdad, during the Iraq war as he realised he needed cash quickly. Saddam's son Qusay Hussein delivered a handwritten note to the bank demanding £575 million in US banknotes, a quarter of the country's currency reserves and enough cash to fill three large trucks.
3) The Isabella Stewart Gardner Heist
Item(s) Stolen: Artwork
Value at time of crime: £296 million
Current value: £646 million
In third place is Boston's Isabella Stewart Gardner heist. Two men disguised as police officers subdued security guards and stole 13 works of art including paintings by the dutch masters and Degas, worth an estimated £625 million today. Although there are many theories on what happened to the art including them ending up in Ireland with the IRA, the works have never been recovered and the thieves remain at large.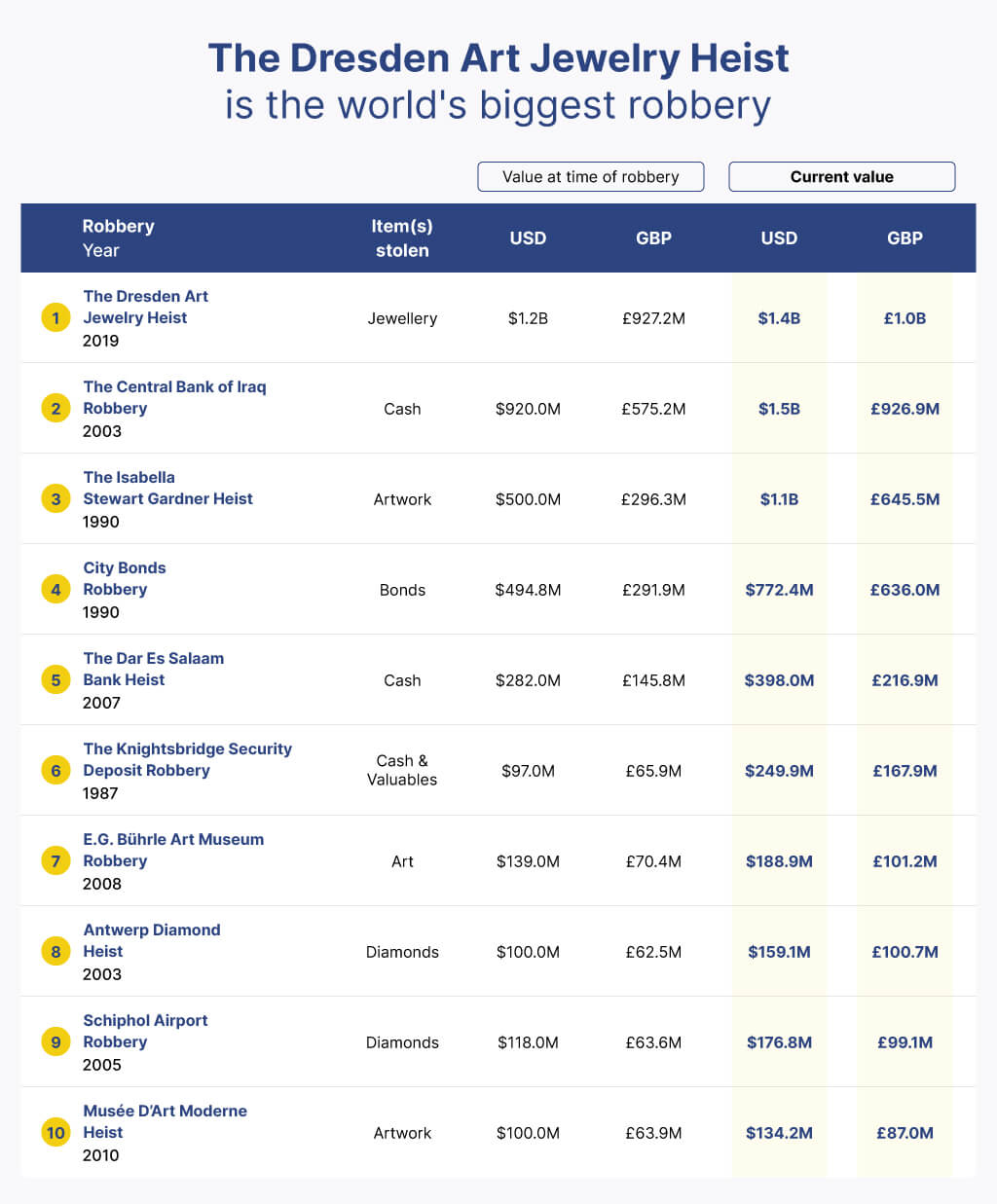 The biggest celebrity robberies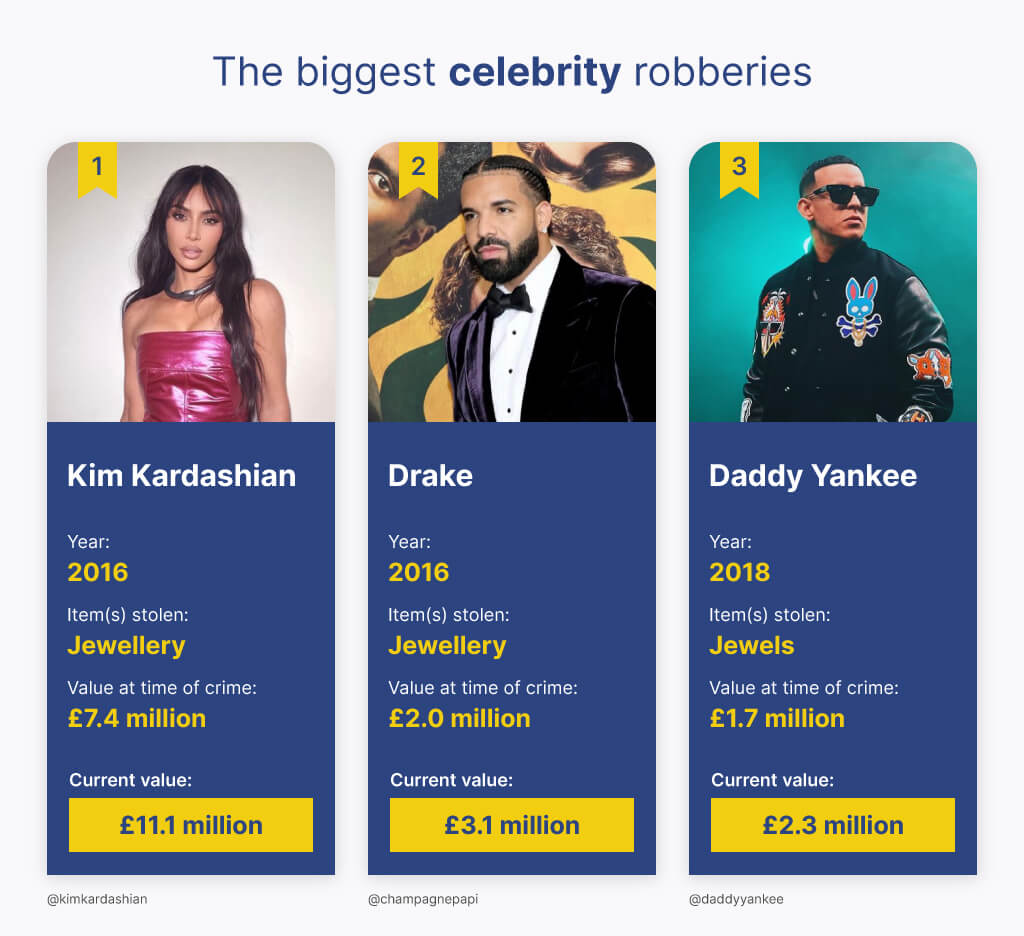 Celebrities love to flash their wealth, but when you're world-famous this can be very risky, and the jet-setting lifestyle of celebrities means their mansions are often left unattended or they're travelling with minimal security, leaving them vulnerable to thieves. But which celebs have had the biggest hauls snatched from their pads?
1) Kim Kardashian
Item(s) stolen: Jewellery
Value at time of crime: £7.4 million
Current value: £11.1 million
Kim Kardashian takes the top spot as the celebrity victim who lost the most in a robbery when armed thieves broke into her Parisian hotel. The robbers escaped with jewels worth an estimated £7.4 million at the time, including an engagement ring from her then-husband Kanye West worth a reported £3.5 million.
2) Drake
Item(s) stolen: Jewellery
Value at time of crime: £2 million
Current value: £3.1 million
Up next is the Canadian rapper Drake. During his summer 2016 tour, the thief snuck aboard his tour bus in Phoenix, Arizona and stole a briefcase containing jewellery now worth an estimated £3.1 million. Drake has a history of being burgled, in 2017 a woman broke into his California home, raided his fridge for £8 worth of water and soft drinks and was arrested for felony burglary.
3) Daddy Yankee
Item(s) stolen: Jewels
Value at time of crime: £1.7 million
Current value: £2.3 million
In third place is Daddy Yankee, who had an estimated £1.7 million in jewels stolen from the safe in his Spanish hotel room. The thief impersonated the reggaeton star and asked hotel employees to open the safe before making off with the jewels.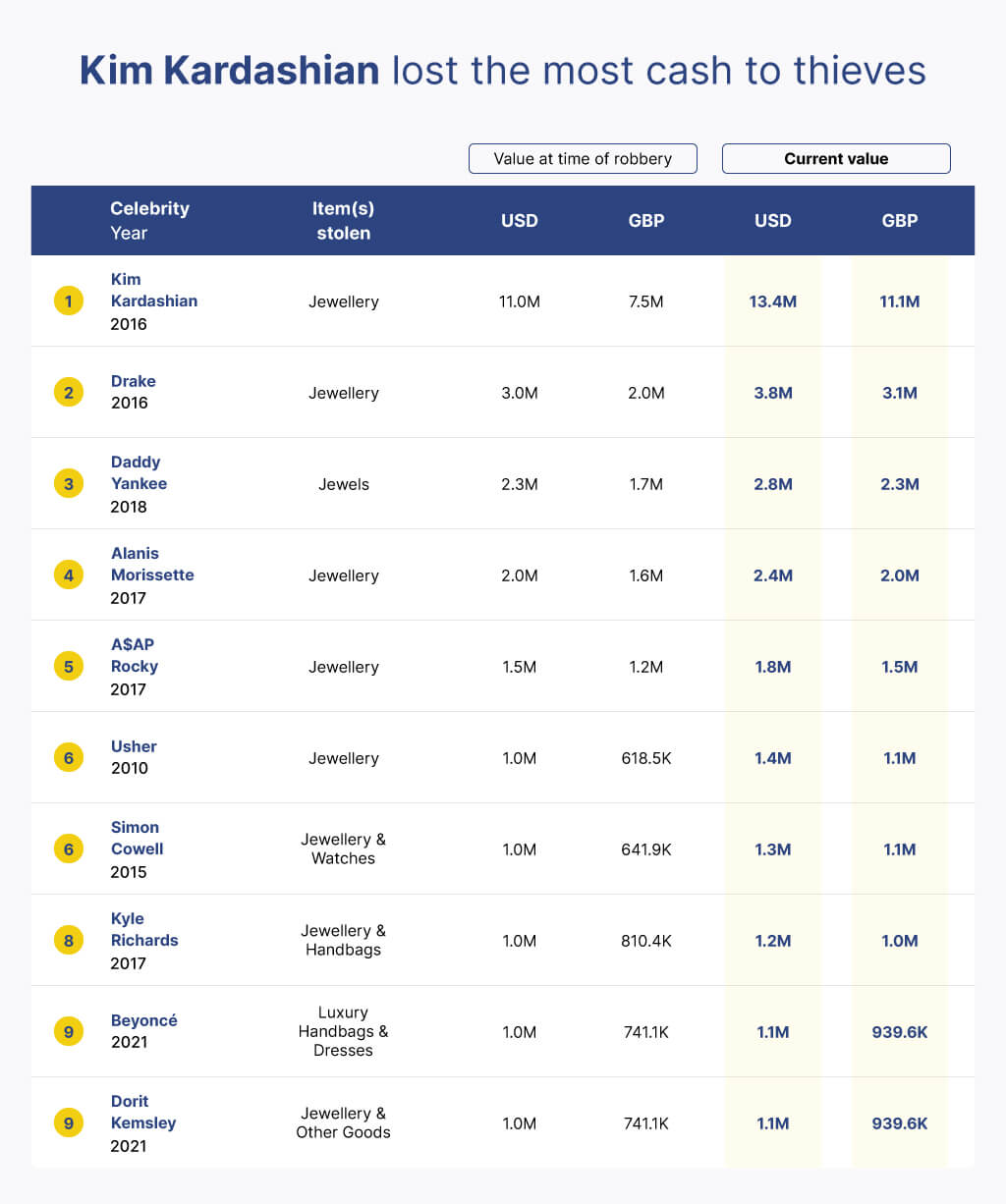 The UK areas losing the most cash to burglaries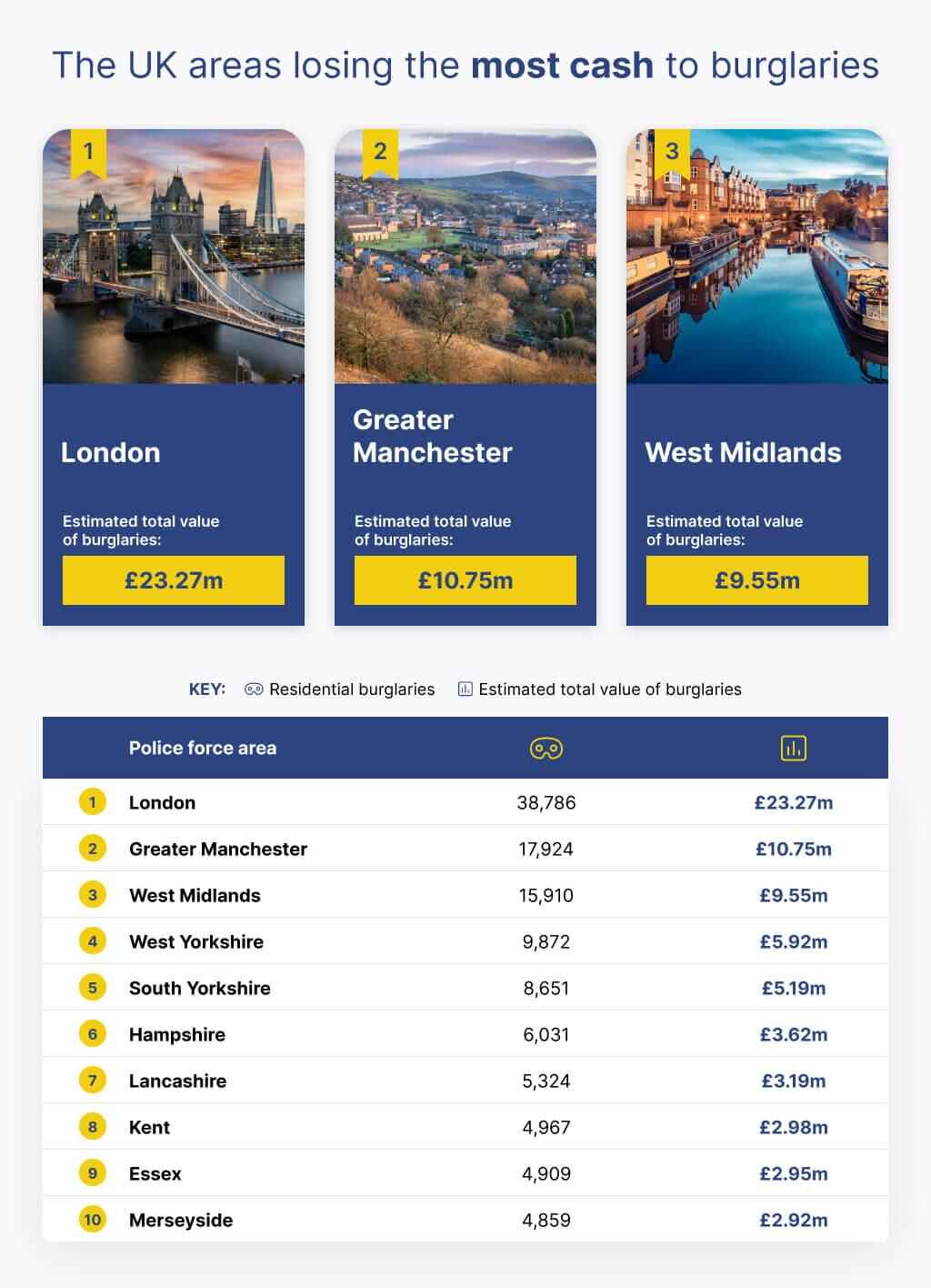 1) London
Estimated total value of burglaries: £23.27m
Perhaps unsurprisingly, the police force with the highest estimated value of stolen goods is London. There were 38,786 residential burglaries in the capital in the last year, which, with a median value of £600 would mean over £20 million worth of stolen goods.
2) Greater Manchester
Estimated total value of burglaries: £10.75m
In second is Greater Manchester, which had 17,924, which would equal £10.75m in value if we use the median figure of £600 per burglary. That's less than half as much as in London!
3) West Midlands
Estimated total value of burglaries: £9.55m
Not too far behind Greater Manchester is the West Midlands, where there were 15,910 burglaries, at an estimated total value of £9.55m.
What makes items valuable?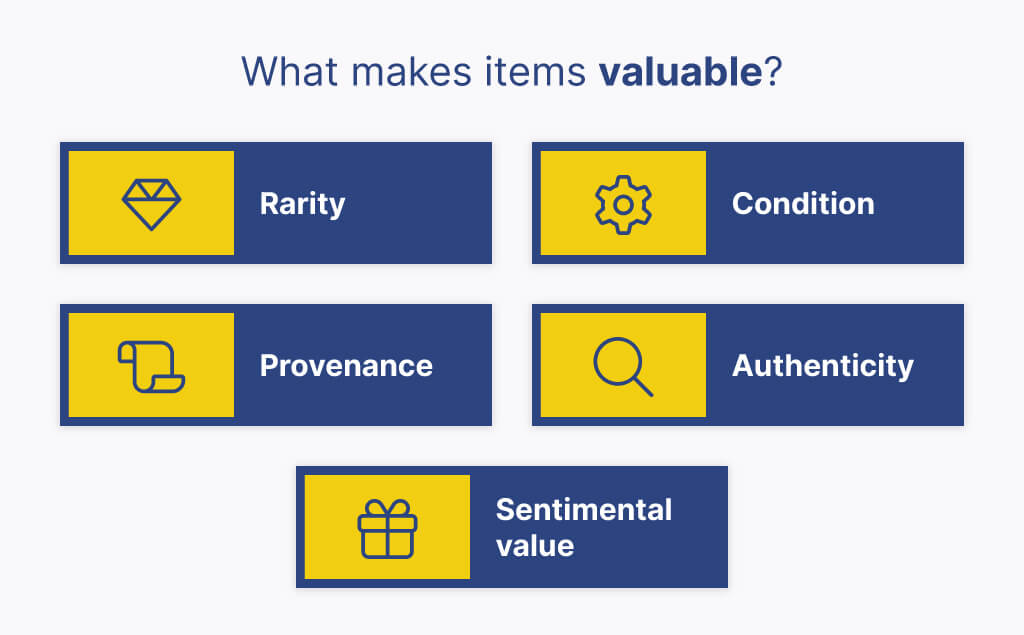 Identifying how valuable an item is isn't as easy as it might seem at first, so we've put together this list of what to look out for when judging the price of your most prized antiques.
Rarity
Usually, the harder an item is to get hold of the more valuable it will be. Better yet if it's totally unique. Handmade items are often highly prized for their rarity as no two will be completely the same. Even some mass-produced items can be valuable if they feature mistakes in their design, so try to find out how many of the items were originally made and how many are still around to gauge their value.
Condition
Most antiques have a higher value if they've been kept in good condition, and the devaluation of damages can vary from item to item. Look out for cracks, chips, or missing parts to get a feel for the value. Sometimes even signs of repair can devalue an antique, so make sure they're restored professionally to retain their value.
Provenance
An item's history or provenance can also affect its value. Even everyday objects can be highly valuable if they were owned by famous people, especially if there's supporting proof like photographs. This also helps separate genuine items from forgeries or replicas.
Authenticity
If an item is the real deal then it will be more valuable than reproductions. However, identifying authenticity has become very difficult as technology has made reproductions harder to spot. Look into the artist or manufacturing company and research the types of pieces they made to make sure all the elements add up.
Sentimental value
The best way to assess an antique's value isn't just to figure out its financial worth, but what it means to you. A family heirloom can have far more sentimental value than the price tag attached to it because of its unique story and its connection to you, making them priceless.
How to keep your valuables safe
Now that we've looked at what makes your most prized items valuable, let's dive into how you can keep them safe from the unwanted attention of burglars looking for opportunities to get their hands on them.
Lock doors and windows
Doors and windows are the easiest ways to gain entry to a house, so make sure these are secure if you're keeping valuables in your home. Fitting strong locks, especially deadlocks on doors and remembering to keep these locked even if you're just popping out will make entry difficult for burglars.
Invest in a monitored alarm system
This may seem obvious, but buying a monitored alarm system is one of the best ways to secure your valuables at home. As well as alerting authorities when they're triggered, monitored alarms also act as a deterrent to burglars scoping out potential houses.
When choosing a monitored alarm system always look for a trusted and reputable alarm company; a good way to find one is through the NSI website.
If you are wanting your alarm system to notify the police in the event of an activation, you will need a URN number (unique reference number), this number will be lodged with your local police force and in the event of your alarm being triggered, they will be tasked with responding.
You will also need to ensure that your alarm company has an alarm receiving centre and if opting for police response, this will need to be ECHO connected.
Find a good hiding place
If you want to keep your valuables close to you in the home, finding a hiding place where no burglar would think to look can also keep your items safe. Avoid common areas like bedrooms, desk drawers and cabinets. The loft is a great place to store valuables as burglars rarely set foot in them as they risk being trapped.
Store them in a safe
Safes are a great way of keeping your valuables protected in your home. Make sure your safe complies with insurance standards and is kept in a less obvious place. You should also consider bolting the safe down to make it harder to remove.
Use smart lighting
Turn lights on around the home to give the appearance of occupancy. You can also set up rules with the ADT Smart Home package and smart plugs, for example, if motion is detected via an external camera, or your video doorbell then a hallway or upstairs lamp can be set to automatically come on if it's plugged into a smart socket, instantly giving the impression someone's at home.
Methodology
Beginning with a list of history's biggest robberies, heists and burglaries taken from list articles, we gathered data for the amount stolen and the year each crime occurred.
As most of the list articles gave values in US dollars we used The Bank of England's Daily Spot exchange rates against Sterling to find the value of the crime in Pound Sterling for the year the crimes took place. We then used the Bank of England's Inflation Calculator to find the current value in 2023.
Data from list articles was used to find the biggest celebrity robberies (in US dollars) and the year they took place. The US Bureau of Labor Statistics CPI Inflation Calculator was used to find the current value of the crimes as of February 2023 and converted ed to Pound Sterling using xe.com.
To find the UK areas losing the most to burglaries, the total number of burglaries according to The ONS was multiplied by the average cost of burglary in 2020 according to NimbleFins (£2,856). This figure was then divided by the total number of households in each area to reach the final average figure.
Currencies were converted on 10/02/2023.